Keep your workspaces clean, organised and tidy with the multi-functional Fischer Plastics Drawer Organisers. By utilising this simple drawer system you can organise large amounts of small components into various drawers and improve the way you access parts.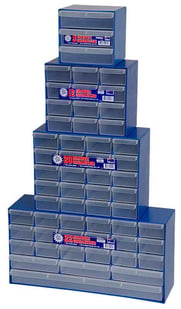 Clever and innovative it can sit on a bench or in a cupboard, or alternatively, this storage container can be fitted onto Stor-Pak Louvre Panels or screwed directly onto a wall.

It is essential to make the most of your space using the right storage containers for your needs. By affixing the drawer organisers to the wall either via louvre panel or simply screwing them in, you can maximise your storage space with these products.
The Fischer Drawer Storage Organiser is a great example of the perfect storage for spare parts. With separate drawers, you can keep everything separate and neatly stored.
The drawers can also be taken out of the main unit, so you can easily transport the small parts you need to your work desk or area. This also assists in the cleaning capacity.
A Draw Organiser will assist you in keeping everything organised for easy access. As a recent case study we have had customers raving about the fact that our drawers were a perfect size for collector cards such as football player cards.
Our Fischer Plastics Draw Organisers are made of hospital grade material, meaning that they are bacterial free and chemical free. The body of our Drawer Organiser is made from high impact styrene, and the drawers are made from durable co-polymer, making this storage container solution tough and durable.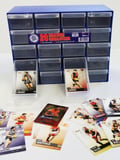 Drawer Organisers are ideal for:

The handy-person: stores nails, screws, bolts, nuts and washers.
The tradesperson: stores and protects all small parts and components.
The home: stores sewing needs and accessories for crafts.
You can contact Fischer Plastics' sales team today for expert advise on how we can assist your storage needs or help you access our distribution network for the Drawer Organisers mentioned.