Having the correct bathroom storage will help keep things tidy and clean.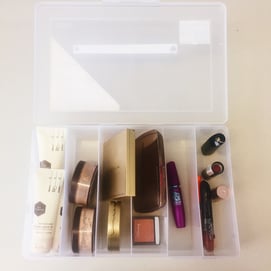 Having clutter in the bathroom is very common. However, it is good to organise your storage to keep things sanitary and clean.
For example, sorting your makeup into separate sections in a plastic storage container is a great way to keep track of what you have. You can sort your makeup and other products in a way that makes them easy to find. Or you could place all your moisturises and cleansers in one section and hair products in another.
This simple solution will ensure that your drawers are organised, and you don't have to riffle through messy drawers each time you need something.
Another essential bathroom storage solution is a first aid kit or cabinet.
As the name 'first aid' suggests, it is the place you can go straight away when there has been an accident. Whether it is a small injury or something more concerning, having basic medical items on hand can be extremely important.

Your first aid kit should be available and stocked with the correct items at all times. You can use a first aid cabinet, clear storage box or toolbox to find the right storage solution for your needs.

What should be in your first aid kit?
Bandaids

Small scissors

Sterile eye dressings

Thermometer

Gloves

Safety pins

Tweezers

Gauze

Saline solution

Bandages

Small, medium and large combine dressing pads

A pen, paper and a list of emergency numbers.
We suggest putting the list of contacts (such as ambulance, family doctor, paediatrician etc.) on the inside lid of the first aid kit so it is not misplaced.
The Fischer First Aid cabinet is a great bathroom accessory.
With a range of colours and sizes, you can choose the first aid cabinet that suits your needs especially. This can be used as a medicine cabinet and can be used wall mounted cabinets.
This storage unit was designed with safety in mind.
Purchase with either a knob or lock for safe storage
Allows easy visual stock control
Perfect for medical consumables such as bandages, tape, gauze etc.
Comes in three sizes
Wall-mountable cabinet let you create a custom supply station
Keeps items at fingertips for increased safety
Durable construction for years of use
Made in Australia
Made of Hospital Grade/Food Grade material
Want to organise another space? For office storage (click here) or kids storage (click here)