When organising your home and going room by room, there is often one thing that comes up that needs extra storage, and that is storage for arts and crafts!
Arts and crafts often involve small pieces that can end up unorganised or even lost without the best storage solution. You can ensure that your things stay clean and organised by utilising Fischer's wide range of Australian-made storage solutions. The products are made of the highest quality material so will last the test of time.
Start with the wide range of clear storage boxes to organise your art kits. This storage box with a snap closure lid will be a perfect storage solution for small sewing notions, craft and hobby supplies and more.
The larger single compartment Fischer Plastic Clear Storage Containers are perfect for:
Knitting materials such as wool and yarn
Paper, scissors and glue
Scrap Booking stencils, tape, pens and more
And smaller multi-compartment boxes for sorting:
This is the ultimate storage box with so many different dimensions and configurations, including one style with removable dividers.
Made from strong and durable materials with thick walls.
Built to last through industrial applications.
Lots of options to suit your parts.
Australian Made Certified
Food Grade materials
Hobby Boxes are another great option for craft storage. The beauty of this storage system is it can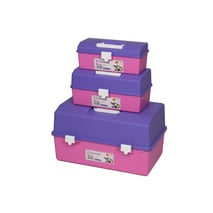 easily be stored away anywhere in your home and then brought to wherever you do your crafts i.e a workbench in the garage or a dedicated space in the house.
Store all your craft project items in the Craft Storage Box. With an easy see-through lid, quick lock tabs and a convenient carry handle, it's perfect for those DIY projects.
Click below to read more about how you can use these products for:
To view our full range - download our catalogue.