Fischer Plastics has a wide range of handy storage solutions that help keep your garage, storage room, workshop or utility room neat and tidy.
It is important to take the time to consider what storage boxes or configurations will suit your workshop or garage to ensure it is perfect for your needs and easy to use.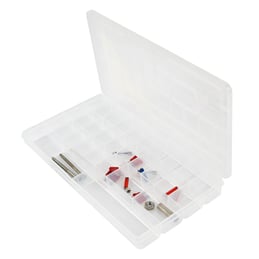 1: Fischer Clear Storage Box
The Fischer Clear Storage Boxes are a great versatile option that should always be considered for storing smaller parts such as those found in a garage.
Our storage containers are great for any number of storage solutions. The Fischer range of boxes is very versatile. Available in a range of sizes and configurations of compartments, they are great in the garage for keeping small pieces such as screws, bolts, and nuts organised and separate.
The smart design has a tight-fitting lock-down lid which will aid in keeping dust and insects out. This locking mechanism will help to keep your pieces clean and undamaged for longer, extending their lifespan and saving you money. The transparent plastic construction aids in identifying contents without opening them, saving you time.
Constantly losing things on your war out the door as you get in the car? We have the solution. Simply place things like sunglasses, car keys and wallets in a container near the door as you enter and take them as you leave. This way, you save time and no longer need to worry. Our storage boxes are great as they have clear lids; you can simply glance at the box and know exactly what you have stored in it. With the ability to add and remove dividers, you can choose how to organise your storage. Because of their design, these storage containers can be altered and used to fit your needs.
2: Fischer Feeder Trolley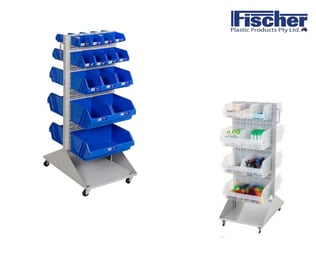 The Australian-Made Mobile Feeder Trolley Kit with Fischer Plastic Stor-Pak Bins is perfect for storing small parts that need to be moved between work areas. The double-sided mobile storage kit comes with 28 is Stor-Pak plastic containers.
Mounted on a sturdy frame with castor wheels (two castors with brakes), the mobile feeder trolley can be maneuvered easily on smooth, flat surfaces.
This mobile feeder trolley can be used as a single unit, or you can link multiple trolleys together to form an extra-wide parts storage solution. Keep your tools, nuts, bolts, and screws more organised.
3: Fischer Drawer Organiser
The Fischer Drawer Organisers have been designed to hang on a standard Louvre Panel. By adhering your drawer organisers to a wall-hanging louvre panel system, products can be easily accessed and storage space can be maximised.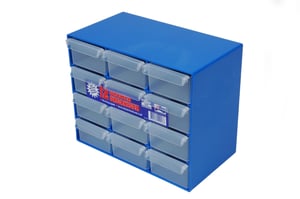 The smart design also means that you can easily take off your drawer organiser from the wall hanging system and take it to your workbench.
The drawers are also removable and can be taken to your workbench.


Perfect for:


Fischer Plastics products are built to last, and because we are locally Australian-made and operated, you will receive a customer service experience that will go over and above to service your needs and adapt to your industry.