Garage space can be limited so making the most of the space you do have can be vital. Hanging storage on the walls is a great way to use your garage space.
By creating a storage solution that works for your garage will also ensure that your items are kept tidy and organised, which will assist with maintaining your products at a high quality.
Fischer Plastic Products manufacture a number of storage containers that fit a louvre panel, including:
Stor-Pak Bins
Fischer Plastic bins are a great way to store tools as you can quickly view the product.
Fischer storage bins come in six sizes so that you can pick the storage solution that suits your garage needs best. They also come in a a range of colours which is great for colour coding and creating an organised system. When deciding what storage bins to use for your garage storage, it is essential not to overlook the simplicity and functionality of the Stor-Pak.
Drawer Organisers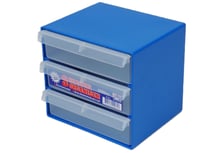 With separate drawers, you can keep everything separate and neatly stored. The drawers can also be taken out of the main unit, so you can easily transport the small parts you need to your work desk or area.
Visi-Paks
The Vis-Pak tilts open for easy access. Great for handy storage, with a clear front, you can see the exact items that are being stored in the plastic storage containers. Available in three sizes, this garage storage idea is perfect for small items.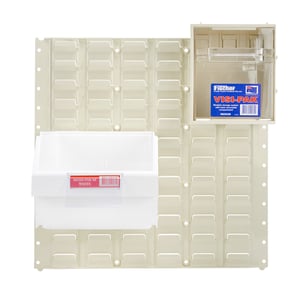 All of the above items are designed with a unique Louvre Panel grip. This smart design ensures they sit strongly and securely onto the A.B.S Fischer Plastic Louvre Panel to assist Workshops and home garages to create efficient handling and organisation.
With movable module components, the Fischer Louvre Panels allow for storage solutions that suit your needs and spaces specifically.
Looking for more great garage storage products? Check out the below Fischer catalogue.