When it comes to the home and storage - there is one tub everybody needs! The Fischer Stor-Tub 9L
This versatile industrial Stor-Tub is a great addition to any home, office or warehouse.
This storage product is environmentally friendly as it comes in an option made of recycled material!
The Fischer Viro range utilises only our own virgin material offcuts and material wastage that would otherwise be sent to landfills. The result of using in-house materials and carefully selected wastage means that the final recycled product is still of the highest quality in line with the Fischer brand.
The tub is a great size to carry around the house at
3
2
5
M
M
L
X
3
1
8
M
M
W
X
1
4
0
M
M. This means you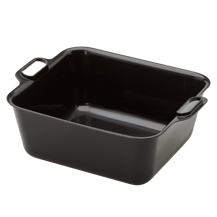 could either use it for shelf storage or carry or collect items around the house. They come in clear or black so you can choose the colour that suits you. Nestable, these can be stacked for efficient storage when they aren't in use. Being stackable, they are great as they take up very little room when you don't need them. They are both versatile and very high quality, meaning they are strong and durable. The Stor-Tub is a long-lasting product and is a great addition to any home storage solution.
Some other great uses for this product are:
HOME

GARAGE

STORAGE

: use this for loose tools or items
CAMPING

ACCESSORIES: great for on the go
TOOL

STORAGE: made of very sturdy material
KIDS STORAGE: made of lightweight but sturdy material, this is a great product for collecting items like toys and lego.
Speak to one of Fischer Plastics expert sales and customer service representatives about how you can incorporate the Fischer storage solutions into your business processes and optimise the way you store parts and accessories. If you would like to read more about Fischer Plastics' range of industrial plastic storage solutions - click here.