Amongst Fischer Plastics premium storage solutions, we provide options for all different trades and industries. For electrical components our core range of storage parts trays and carry cases have been widely used for decades. As an addition to this, Fischer has expanded into the ESD safety realm for electrical storage options that need the added safety when static interference could be at play.
Electrical component storage for things such as computer chips and LED's are often considered ESD sensitive and thus without proper protection and storage care can become damaged and faulty when in contact with Electrostatic charge from another object.
When you are building out your warehouse facility or storage department for electrical components you should consider the following:
What parts can be stored together that won't interact with each other?
Do you anticipate storing any ESD Sensitive devices?
What can I do to minimise Static interference?
Storage facilities can be huge determinate in the efficiency of your business both in the sense of your back of house warehousing as well as mobile storage systems such as vehicle shelving and accessories. By working with Fischer Plastics on your storage bins we can give you over 50 years of experience and insight into what you can do to maximise space and become more efficient with your storage for parts and components. Whether you are selling to tradespeople or taking equipment to site, Fischer has a storage bin for you.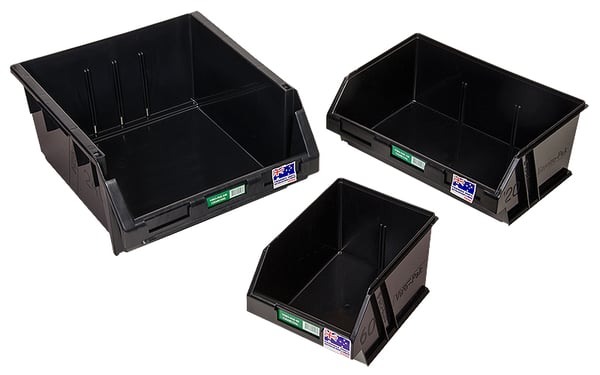 With Fischer Plastics operating locally in Melbourne, Australia, we have been able to work with our raw materials supplier and be able to offer specialty plastics such as ESD safety.
Sourcing ESD Plastic Containers:
Currently to source your ESD safe storage bins you would be purchasing goods made overseas in Asia or Europe, meaning that you are paying quite a premium for the goods as well as missing out on the chance to keep your money in the Australian economy.
You can chat to one of Fischer Plastics storage experts today to help find any solutions you may need in electrical component storage and broader warehousing.