So you are setting up your new van, great! It might sound simple, but it can be challenging to remember to ask all the right questions when setting up your van racking. When choosing the right van racking solutions for your needs, it is important to consider three key points.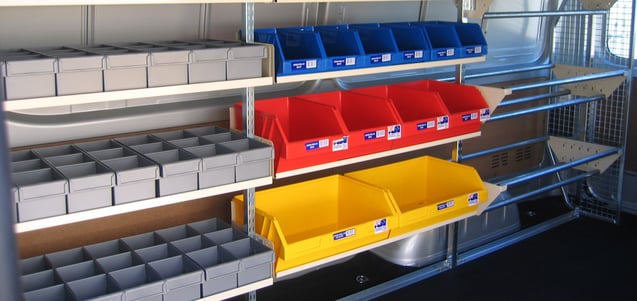 1. Where are your van racking accessories made?
It is vital to check if your van accessories are Australian Made as this will ensure multiple things.

You will know where your accessories are from. Being made locally illustrates that the product has been made ethically, as Australian Business must follow strict guidelines.

Australian Made also ensure quality. The quality of your product is highly critical.

Your purchase will support local jobs and families.

To read more about the benefits of using Australian Made products here.

2. Do the storage solutions suit your specific requirements?
Make sure you look at what will specifically suit your industry. Electricians, builders, plumbers, while all needing van racking storage, have differing needs. Consider things such as what material was used to make the storage bins. The material used, whether it is a high or low quality, will determine the storage units lifespan. So if you are after something sturdy and durable, you will need a high-quality material. Ensure you assess a wide variety of options before deciding on your vehicle fit out. Not only can you take time to consider what storage products you need, but also aim to think about the storage configuration you would like. Making these decisions will help you to have an excellent understanding of what you want so that you can then purchase what you need.

3. Is the storage solution innovative?
There are many van racking suppliers now who are offering new and exciting storage idea. These new ways of organising vehicles can help to improve efficiency and keep you or your staff organised. This will save time as there won't be as greater need to go back and forth from the van. An example of this is using Stor-Paks in your van fit out and being able to take them off the racking and to your workbench, eliminating the need to go back to the vehicle as often. It is a good idea to look for storage solutions that are not only efficient but also adaptable. This way it will be a long life investment.