There are multiple different types of plastic storage containers on the market, and picking the correct sone for your needs. The new Fischer compartment box is specially designed for kitting up.
The 31 Compartment Clear Storage Box has made its way to market as a tangible unit across a variety of industrial and end-user purposes such as nuts, bolts and washer storage through to home user craft kits leaves endless storage opportunities.
Ribbed Lid
This container has been specially designed and made with a unique ribbed lid design to stop parts transferring between compartments. The ribbed design means you can keep small pieces easily separated and you don't need to worry about them getting mixed up.
Stackable Storage Solution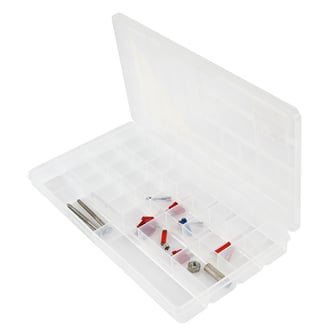 The 31 Compartment Box is stackable for organised and concise storage. One storage idea is rather than having each box sitting separately, which can take up space, try stacking them. Because the material is transparent you will be able to quickly view what is in each compartment.

Curved Compartments
The unique curved compartments allow for easy removal of stored parts. Unlike other plastic storage containers, the new Fischer 31 Compartment box is rounded at the bottom. This design element means there are no tricky corners for parts to get stuck. This will allow you or your staff to pick pieces quickly and efficiently, making getting the job easy and quick.
Ideal For:
Electricians & Locksmiths - This radius based storage container is Ideal for kitting up your small components.
Childcare & Education - because of the rounded bottom it is easy for children to pick small pieces up.
Made in Australia from high quality and durable random copolymer material. This storage solution is made to last and will keep your spare parts not only organised but also safe and clean.