Fischer Plastics has a wide range of handy storage solutions that can help get your garage, storage room, workshop or utility room neat and tidy.
It is important to take the time to consider what storage boxes or configurations will suit your workshop or garage to ensure it is perfect for your needs and easy to use.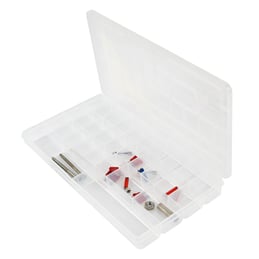 The Fischer Clear Storage Boxes are a great versatile option that should always be considered for storing smaller parts such as those found in a garage.
Our storage containers are great for any number of storage solutions. The Fischer range of boxes are very versatile. Available in a range of sizes, and configuration of compartments, they are great for in the garage for keeping small pieces such as screws, bolts, and nuts organised and seperate.
The smart design has a tight fitting lock down lid which will aid in keeping dust and insects out. This locking mechanism will help to keep your pieces clean and undamaged for longer, extending their lifespan and saving you money. The transparent plastic construction aids in identifying contents without opening it, saving you time.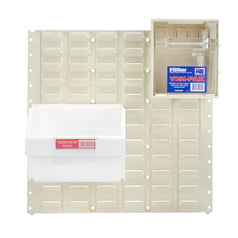 Garage space can be limited so making the most of the space you do have can be vital. Hanging storage on the walls is a great way to make the most of your garage space. Fischer Stor-Pak Bins, Visi-Paks, Stor-Pak 63 and Drawer Organisers are designed with a unique Louvre panel grip to ensure they sit strongly and securely onto the A.B.S Fischer Plastic Louvre Panel to assist workshops and home garages to create efficient handling and organisation. Read more about hanging your storage on a louvre panel in our blog post here.

Fischer Spare Parts Trays are made from durable and robust Polypropylene to resist solvents and oils. These storage units are ideal for industrial or domestic use and made in 6 different sizes. Being available in Grey, Blue, Yellow, Red, and Green allows for colour coding product in your garage. Perfect for storing nuts, bolts, fasteners and more.