When fitting out your medical and healthcare consumable storage space, it is essential to make sure you are using your area efficiently and that you the safest storage solutions on the market have been implemented. With this in mind, and in collaboration with leading medical procurement departments, Fischer Plastics developed the Mesh-Pak range of plastic storage bins.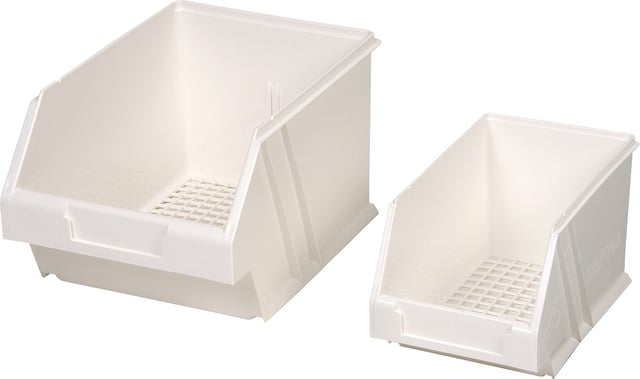 It is vital for medical facilities to have the correct wall panel basket system fit out to make sure that you are utilising the entirety of your space. You will see our Medical storage bins implemented widely throughout hospitals, dental clinics, vets and more.

The issue with many imported medical storage bins is that they collect dust and can be very difficult to clean, especially to a pharmaceutical standard. Another worry for healthcare facilities is the harmful nature of rust. Wire baskets in turn, can be dangerous for staff and patients.

Manufactured from a high-quality material, the plastic Mesh-Pak bins are a food-grade material and unlike wire medical baskets, there is no metal making the Fischer bins rust-proof. The perforated bottom not only improves the lifetime of your purchase, but also keeps your staff protected from the infectious dangers of rust.

Plastic mesh baskets are ideal for sterile hospital environments. This design is perfect for spaces where cleanliness is vital. The perforated mesh construction provides vertical ventilation. Knowing dust will not collect is critical and can be achieved with the Mesh-Pak storage design.
Some key points on the Mesh-Pak:
Available in three sizes to accommodate small as well as bulky items

Produced in sturdy and durable hospital-grade material - bacterial free and chemical free

Has an angled front facing to provide easy picking access

A perforated bottom ensures no dust collects at the bottom of the box

Larger sizes can be used with dividers for further organisation
Features
Manufactured from sturdy, durable polypropylene
Interlocking design ensures secure stacking
Mesh bottom to allow air and moisture flow
Easy to clean
Sturdy and durable hospital-grade plastic ensure the dust-free baskets are bacterial free and chemical free.
The Mesh-Pak is Australian Made, so you know you can rest assured that you are buying the highest quality storage solutions.
Read more about implementing our basket systems into your facility, or how Lismore Hospital upgraded their patient storage bay.