Fischer Mesh-Pak bins are a sterile stock storage solution, perfect for hospitals and medical facilities. Storeplan Group (Tamworth NSW) completed a Fischer Mesh-Pak project for Lismore Hospital to upgrade their patient bay storage. This case study shows how the Fischer Mesh-Pak bins can be implemented into medical facilites.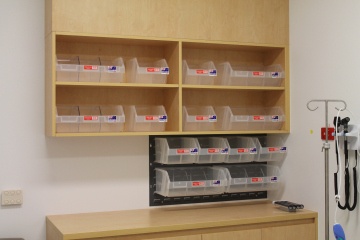 Sterile storage solutions
The Fischer Mesh-Pak range has been specifically designed with the needs of medical facilities in mind. Hospitals around Australia like Lismore Hospital have already set up the range and are utilising all that this range has to offer.
Fischer Mesh-Pak bins are made from high-quality, food-grade plastic. Unlike other bins, which are made of metal, Fischer bins are rust-proof. This not only improves the lifetime of your purchase, but it also keeps your staff protected from the infection dangers of rust.
What's more, due to their smart design, the Fischer Mesh-Pak bins do not collect dust.
Easy to clean
Our Fischer Mesh-Pak plastic storage bins are easy to remove and wash from the wall. They are wipeable, for when you don't have time to send the component to a washer. They also have solid and impermeable surfaces so that moisture cannot penetrate the interior of the Mesh-Pak.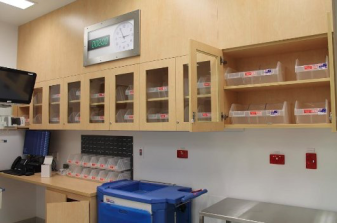 Choose from 4 sizes & 3 colours
Fischer Mesh-Paks are now available in four sizes due to the recent inclusion of the Mesh-Pak 10, helping to accommodate small as well as bulky items.
The Mesh Pak range is available in four colours:
Having different coloured Mesh-Paks allows for colour-coding, creating more efficient warehousing and stock handling.
View our medical storage page or get in touch with us to find out how we can help you get more organised in your medical facility, warehouse, work, office or home.