The Caddy Tray is perfect for business use and is great for transporting products and supplies from place to place. Fischer Plastics chooses to manufacture with the highest quality materials to make this product last through a rigorous industrial environment and protect the contents as best as possible.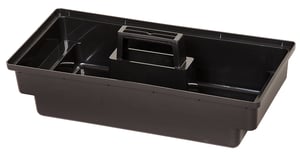 Designed to be used as portable storage, you can take the Caddy Tray from workspace to workspace or even on the road to different job sites.

Caddy trays are perfect for storing cleaning products, gardening supplies, and craft accessories.

Great for portable storage you can take all the accessories and products you need. Being able to transport your goods safely, saves the hassle of going back and forth, saving you valuable time.
Australian made and manufactured from Polypropylene, the Caddy Tray is durable while also being lightweight, making it the perfect product for on the go. The tray can also be found as an insert into some of Fischer Plastics' high quality toolbox range adding to its storage potential.

The design allows for versatility when choosing what you want to store in the caddy tray.
The Caddy tray is perfect for storing and transporting: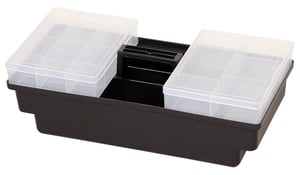 - Medical Goods: blood kits, tape, gauze
- Craft supplies: paper, pens, scissors, sewing supplies
- Cleaning products: cleaning sprays, wipes, gloves.

The Caddy Tray is a great versatile product that assists you with your organised effectiveness in your business and at home.
Fischer Plastics in-house customer service team can help you find the perfect product for your needs.
You can contact us today for expert advice on storage solutions that can maximise efficiencies in the work place and suit your overall needs.