Because we manufacture in Melbourne, Australia, we know and can prove what is going into our products and how they are made. With every claim we make, we can support it because it's made on-site – we see it. This means our products are perfect for specialised fields, especially the medical industry and van racking.
Australian Made Medical Storage
The Fischer Mesh-Pak range has been specially designed with the needs of medical facilities in mind. Unlike other bins, which are made of metal, Fischer bins are rust-proof. This not only improves the lifetime of your purchase, but it also keeps your staff protected from the infection dangers of rust.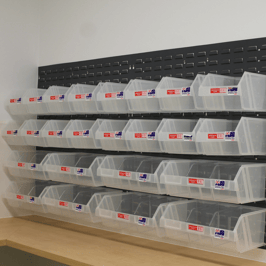 What's more, due to their smart design, the Fischer Mesh-Pak bins do not collect dust. Our Fischer Mesh-Pak plastic storage bins are easy to remove and wash from the wall. They are wipeable, for when you don't have time to send the component to a washer. They also have solid and impermeable surfaces so that moisture cannot penetrate the interior of the Mesh-Pak.

Being made of sturdy and durable hospital-grade plastic ensures the dust-free baskets are bacterial free and chemical free. The Mesh-Pak is Australian Made, so you know you are buying the highest quality storage solutions read.
To read more about how to organise your medical storage click here.
Australian Made Van Racking Storage
Fisher Plastic Products use high-quality materials, ensuring that your products stand the test of time. Fischer products are durable and built for industrial usage. Fischer Plastic Products has been producing the highest quality products for van fit outs since being established in 1965.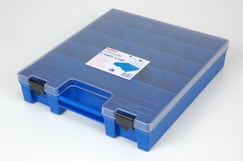 The Ezi-Pak Carry Case has removable dividers to create a more extensive storagearea. This product was designed specifically to use in van storage systems. Will open fully and remain open without support. Perfect for tradesman, electricians, plumbers, NBN data installers, technicians, and builders.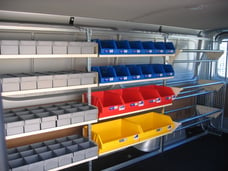 The Fischer Stor-Pak bins are a great way to store tools as you can quickly view the product. Fischer storage bins come in six sizes so that you can pick the storage solution that suits your van best. You can take the Stor-Pak bins off the van racking shelf. The benefit of this is that you can remove the container and have your tools anywhere you like rather than moving back and forth to your van.
To read more about how to organise your van racking click here.
Buying locally made storage solutions not only ensures you are choosing the highest quality, but you can also buy with peace of mind, knowing you are supporting local jobs and manufacturing.