Plastic tubs are a great versatile storage solution. With all different sizes and colours, there is a tub to suit your needs.
Fischer tubs are great for plumbers, electricians, food storage, medical facilities, home storage and more. There are also multiple ways to store your tubs:
Stack Your Storage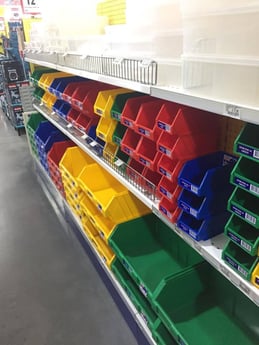 Stacking your tubs is a great way to use your space efficiently.
By stacking your Fischer plastic storage you can order your units in a way that works best for you. We suggest colour coding your storage so that by glancing at your tubs you can find things easily. Creating a colour coding system will help save time and can look great in a work space.
Shelving
If you have spare shelving units, this can be a great place to create a smart storage solution.
By fitting out the cupboard or shelves you can neatly store tubs.
Hang Your Storage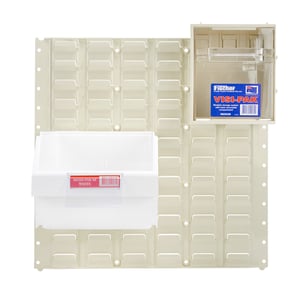 Louvre Panels are a great way to organise your consumables storage.
Louvre panels allow for a wide range of configurations to suit your specific requirements.
A versatile solution, the Louvre Panel is a smart addition to your storage solutions. With movable module components, panels allow for storage solutions that suit your needs and spaces specifically.

By utilising these handy tips you can:
Keep things clean
It is essential to be able to maintain a high standard of cleanliness in your warehouse, garage, home or healthcare facility.
Save time
It is also vital to be able to quickly configure your storage systems in a way that promotes ease of access. That will allow staff to use their time efficiently and spend time on their work.
Have peace of mind
We ensure that all of our products are made from the highest quality grade virgin material to service your needs. For over 50 years, Fischer Plastic Products has been manufacturing a variety of basket systems locally in Melbourne, Australia. Because of this, you can purchase knowing your products are made locally and of the highest quality.
We would love to know how you store your tubs. Do you have a great way of organising your storage? Let us know in the comments below.