Modern Teaching Aids is widely recognised as Australia's number 1 choice for providing teaching resources and supplies for over 50 years. With the worlds leading products available at the click of a button and distributed to schools all across the country, they are a one-stop-shop for all your resource needs. Not only do they provide a platform for procurement departments to find the latest technologies and solutions, but they are on the ground at early childhood centres and school classrooms in order to identify the needs of educators and ultimately tailor the resources to produce the best learning outcomes.
Fischer Plastic Products has worked with many categories and departments within MTA to collaborate and produce a range of storage solutions that compliments their resources and offers premium alternatives to other widely available teaching supplies.
We recently collaborated on a project for the ever growing science, technology, engineering, and mathematics departments also known as STEM. The Fischer Plastics Combo Storage Trolley was the perfect solution for the needs of this educational area.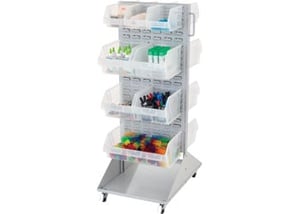 A STEM and a STEAM based curriculum encourages and develops the critical thinking, problem solving and innovative ideas that are important in STEM and STEAM based projects. This curriculum integrates Science, Technology, Engineering, Maths and Art, and the resources need to be able to support these different fields as one integrated pedagogy. This is an open-ended and multi-layered resource which can be adapted to different skill and knowledge levels, and supports children to become confident and adaptable learners1.
By utilising high quality castors, Australian steel and Australian made plastics, this premium product is the perfect interchangeable and dynamic storage solution for assisting learning.
If you would like to source premium learning resources for your school head over to Modern Teaching Aids website. If you are after more specifically educational storage solutions and making your school as efficient and well organised as it can be, contact Fischer Plastics today and we can assist you find the best possible solutions.
1 Source: Modern Teaching Aids - www.teaching.com.au/product/FFP101K