The Fischer Plastics range of storage bins and accessories include the original picking style bin - the Stor-Pak. Built to last from of the strongest virgin grade PolyPropylene with no additives such as talc filler, the Stor-Pak bin has lead the way for storage systems in many industries such as Educational, Medical, Warehousing and Logistics, Industrial and Mining to name a few.
One additional to the popular storage product has been the ability to wall-mount your products and make your storage system not only space efficient but also time efficient to allow for greater capacity to service your industry.
Storage efficiencies are one area that businesses are utilising as a way to get ahead of the pack in an increasingly competitive market. By offering faster pick and pack times and easier access to your parts, jobs can be done faster and quality control can be improved.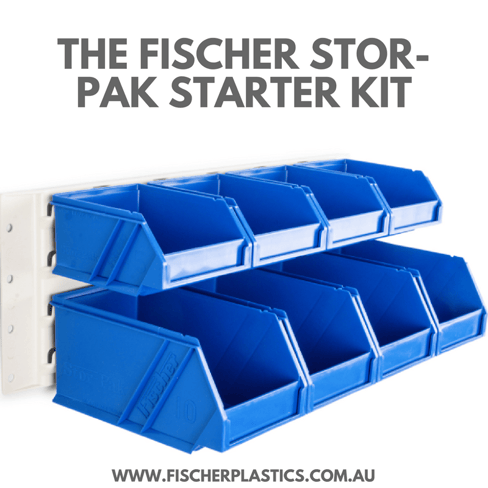 Stor-Pak Starter Kit with Plastic Louvre Panel Accessories
The Fischer Plastics Louvre Panel range offers both Metal and Plastic alternatives. There are a number of misconceptions about the strength capacity of plastic panels in comparison to that of the metal ones which you can read about here. The clever design of a louvred panel and the hooked feature on the back of the Fischer Stor-Pak bin allows for easy access and transport of your parts across other panels or Combo Storage Trolleys.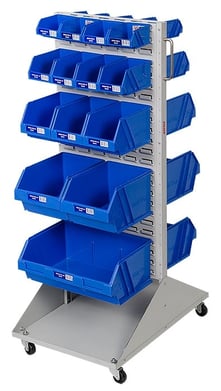 The Combo Storage Trolley has become a staple for warehouses and workshops. It has made the Louvre Panel a portable and convenient storage solution to allow for easy movement across your workspace. By incorporating industrial castors in the Australian made steel frame, the resulting product is an industry leading storage solution.
Fischer Plastics offers the trolley either in a kit with 28 Blue Stor-Pak bins and labels or empty depending on your current stock of the Stor-Pak.
As Fischer Plastic's range continues to grow into many innovative storage areas, the original Stor-Pak bin and Louvre Panel accessory has continued to be recognised as the perfect storage solution to make the most of any sized space and allow for easy picking of parts and movement of product to other areas.
Download the Fischer Plastics Product guide and catalogue today via following this link and entering some basic details.
You can speak to Fischer Plastics expert sales team to help find the best storage solutions for your needs, no matter the size. We work with our customers through every step and connect you with key distribution partners in your area that often have additional products that may be of interest to you.