How do you ensure optimum storage use? This is a question that many people across multiple professions are faced with no matter the size of their space or purpose.
Every business requires organised storage solutions so that they can ensure that their workspace is:
Productive and able to quickly identify and find where items and tools are
Clean
Safe
Holding the correct amounts of stock or tools needed to perform jobs.
Australian manufacturing has developed an excellent reputation in standing for quality assurance as well as durability in a range of applications. Fischer Plastics storage solutions are a great example of this. Fischer Plastics industrial storage containers are durable and will stand the test of time.

To ensure that the storage is being used to its optimum capacity we suggest these three tips.

Hang your storage
Hanging your storage on a louver panel is a great way of organising your containers, rather than having them messily on the ground or hidden away in cupboards. Louvre panels

Label your storage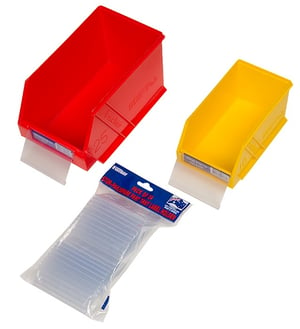 Labelling your containers will not only allow yourself and your staff to identify exactly what is in each container easily but also it will assist in quickly returning items in an ordered way. One great feature of labels is that you can create your personalised labels. That means you can create the description labels in a way that best describe your particular unique material.

Colour code your storage
Fischer Plastic Products has a wide range of coloured containers. By colour coding your storage you will be able to see from a distance a system that you have chosen to organise your parts.

These simple tips can be applied to: