The Fischer Plastic Storage Containers are a great versatile storage solution for first aid and emergency supplies.
Having a small first aid kit on hand is an important thing to consider organising. By having easy access to medical supplies, you will have the peace of mind that in case of an emergency or even a minor accident you will have the supplies needed to deal with the situation.
What injuries would this first aid kit be able to assist with?
For example, this first aid kit container would be able to hold supplies for the following: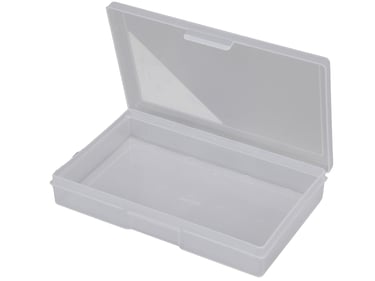 Wounds, grazes, abrasions, scratches, cuts, splinters: in which case you may need gauze swabs, alcohol wipes, basic dressing pack, tweezers, and scissors.
Strains or sprains: in which case you may need

hospital crepe bandage, conforming bandage.
Minor burns: in which case you may need

burn cream.
Eye injuries: in which case you may need

eye pad dressing and eyewash.
By having these supplies at your finger tips you can avoid further injury or stress.
Where would this first aid kit be good for?
This kind of first aid kit is small but comprehensive and is perfect for:
The Car
The Caravan
The Home
Small offices
This compartment box is the perfect size for taking on the go. By placing this first aid kit in your car for example you can ensure that wherever you go you ave easy access to first aid supplies.
For further information about setting up your own first aid kit, read our blog post here.
What is this first aid box made of?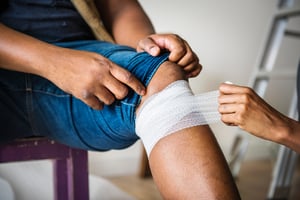 The Fischer Clear Storage Boxes are made of high-quality food grade/hospital grade co-polymer material. This means they are bacterial and chemical free, making them perfect for storing first aid supplies as the box is durable and will keep the items safe.

Because we manufacture these first aid storage containers in Melbourne, Australia, we know and can prove what is going into our products and how they are made. With every claim we make, we can support it because it's made on-site – we see it.