Keeping your documents safe is paramount in any working environment. Whether you are simply keeping a ream of paper clean and safe before putting it in the printer, or being a sales representative looking after a stack of brochures for your clients, Fischer Plastics has developed a unique storage product to suit.
The A4 storage box was developed for the educational industry to allow teachers to store schoolwork and other resources safe from the natural environment and wear and tear. The box has been widely adopted to protect papers and you can now see this translated across many different industries.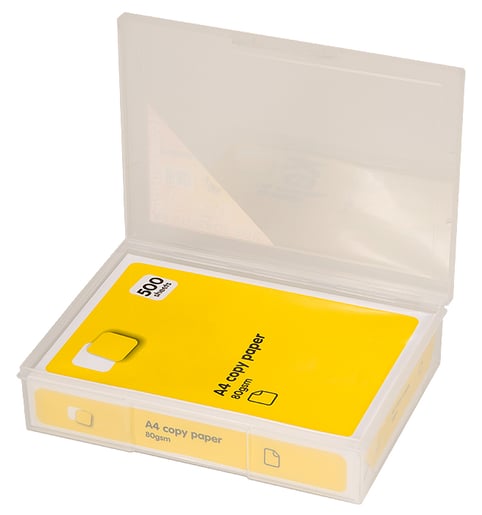 Designed to perfectly fit a full ream of A4 paper, this product is a staple for every office, classroom, home and sales rep. Being entirely manufactured and designed in Melbourne, Australia means its strength capacity will be built to last and allow rigorous usage for many years. This will increase the longevity of the papers or parts stored in the box as well as the ability to continue to reuse the storage box.
Educational Storage Suppliers:
By working with key players in the educational industry meant that we could gain invaluable input towards the design phase for this product and ensure that it is suitable for a diverse range of applications.
Fischer Plastics designed the product, created the tool and manufactures this product exclusively in house in Melbourne, Australia.
If you are interested in sourcing one of the Fischer Plastics A4 Storage Boxes, we work with a number of retailers across Australia and New Zealand as well as a dedicated network of Fischer Plastics distributors that can provide premium customer service.
Contact Fischer Plastics today on (03) 9548 0977 to speak to one of our leading sales representatives who can help you out with purchasing the A4 storage box as well as any other storage solutions you would be interested in discussing.