When setting up a medical storage system, there are some things to consider to ensure that you are maximising efficiencies and provide a safe and sterile environment for consumables and equipment supplies. There are benefits to each different style of setup, and as such, it is essential to choose the right products for your companies needs.
A medical consumable storage system should take into consideration the following key factors:
Sterility and dust collection
Withstand their likely environment
Product safety and cleanliness
To ensure that your consumable products and necessary equipment are kept in a clean and sterile environment you must make sure that the medical storage products are right for your needs. By opting for a mesh-base plastic style of storage bin over a wire basket system, the avoidance of rust is ensured over the lifespan of the product. The design of the mesh-base can also act as a mechanism to alleviate dust collection around consumables.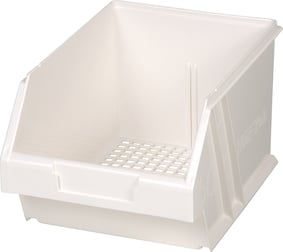 Local Procurement
By supporting a local procurement strategy and knowing where your products have been made can ensure quality and longevity of your storage products in your storage facility. Further to this, by supporting an Australian made storage bin, your system will have the ability to pass the highly regarded Australian standards for medical storage.

Changing Environments
Each department within the medical industry has varying storage requirements and temperature needs to accompany this. Only the higher quality materials have been proven to withstand changing and extreme conditions. By ensuring your product is made of Virgin-Grade Material your product will have the edge when faced with dynamic storage environments.
Labelling systems
Depending on the size of your medical storage system, the ability for tagging each dust free basket can be paramount to increase efficiencies and organisation for staff. Fischer Plastics medical storage bins can be labelled in many different ways to suit the individual requirements of your organisation. A simple cardboard insert through to interchangeable business card sized holders are just a small insight into the possibilities you can utilise to customise your medical storage bins.
Knowing what to look out for when choosing your medical storage products is important, contact a Fischer Plastics expert today!