In a warehouse facility it can be extremely beneficial to organise your spare parts and small components to increase your companies efficiencies and improve the quality of service to your customers.
Small industrial storage bins and picking bins are the ideal storage solution for a wide range of products from nuts and bolts to machinery components as well as general stock holdings. Picking bins give you the capacity to not only have easy access to your parts but also the ability to colour code and organise your storage system.
Picking bin storage systems are most effective in these three ways:
Racking or Shelving Units
Louvre Panel - Wall hanging picking bins
Part specific labelling
Fischer Plastics storage range of picking bins are made from the highest quality virgin grade materials and are specifically designed around standard racking and shelving system dimensions. Fischer picking bins are stack-able and are also nest-able in the case of the 240 size. When sitting on a shelving system, the intelligent design opens up at the front for ease of access to your stored parts. Majority of the sizes have the capacity for dividers to be added for further organisation.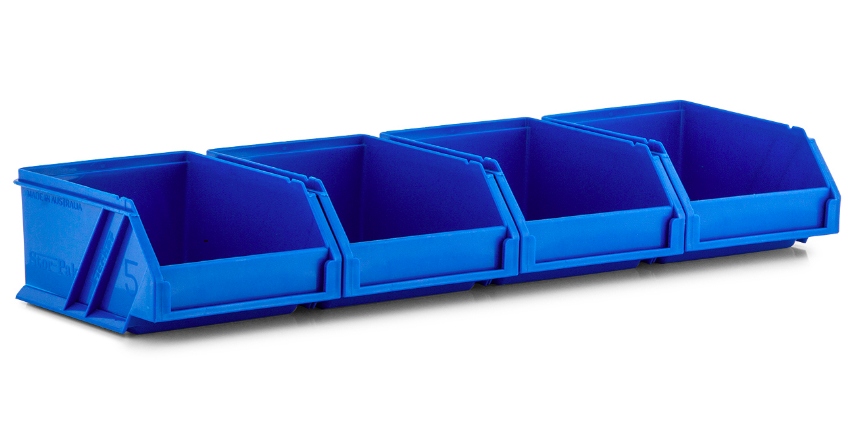 All Fischer Plastics picking bins have been designed to hang on a standard Louvre Panel. Be adhering your picking bins to a wall hanging louvre panel system, products can be easily accessed and storage space can be maximised. The design of the picking bins means that you can easily interchange your stored goods from the wall hanging system to your workbench.
At Fischer Plastics' state of the art manufacturing facility we produce our picking bin range in 7 colours as standard and have the capacity to Pantone match your companies colours for orders of 1000 units and above. This diverse range of colours can offer a great colour coding mechanism for storing your goods.
Contact Fischer Plastic's expert sales team today to discuss your picking bin requirements.