Technician Vehicle Setup
There are many applications for the Fischer Plastic Product range in your vehicle storage setup depending on your trade. Understanding the necessary use and the level of mobility required is a key step when building the storage system. One of Fischer Plastics leading distributors of vehicle accessories and van racking, VAS, understands your differing needs and develops products to suit specific industries and trades.
For this case study, we are focusing on technicians and the technical service industry. The vast array of spare parts and equipment that technicians are responsible for taking to various jobs and worksites means that their mobile storage system needs to allow for the utmost convenience.
The essential Fischer products utilised in this kind of setup would be:
Spare Parts Trays
Stor-Paks
Ezi-paks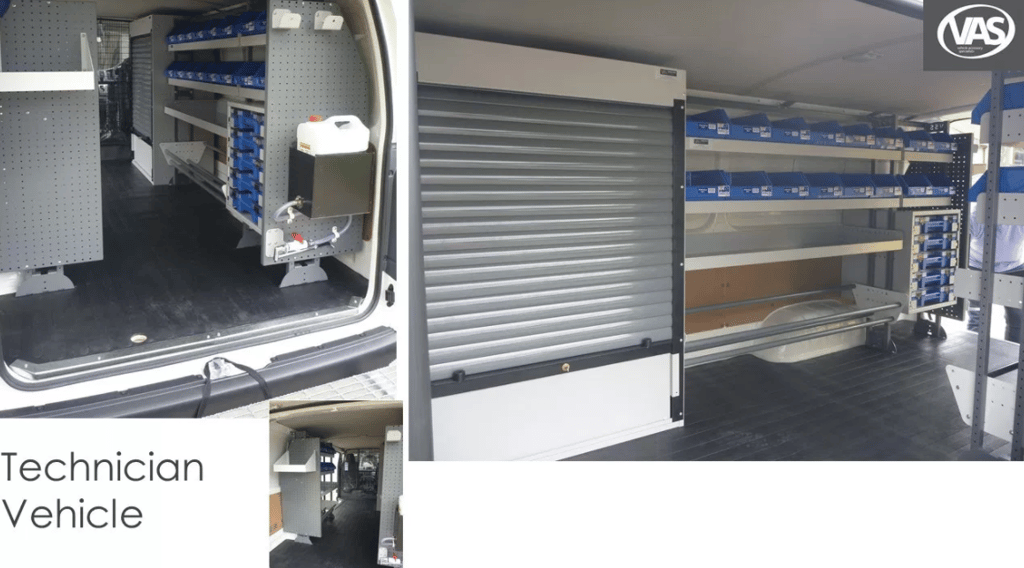 Source: Vehicle Accessory Specialists
As you can see In the image, Vehicle Accessory Specialists (VAS) can enhance your vehicle to maximise storage space while keeping intelligent and accessible designs at the forefront.
The Spare Parts Trays allow for smaller components to be divided and stored with two widths and three depths depending on the space capacity of your vehicle.
The Stor-Pak range is the most recognisable vehicle accessory that is a must-have for any storage setup. With shelving units designed to keep the tubs in place, the Stor-Pak range is available in a range of colours and sizes to effectively differentiate your larger spare parts.
Ezi-Pak carry cases and their associated drawer shelving units – as designed by VAS in this instance – offer a versatile solution to important parts and equipment that needs to be easily transported on-site. The internal dimensions are adjustable dependant on your fittings and supplies.
If you would like to hear more about VAS and their van racking fit-outs utilising the high-quality Fischer storage products, get in touch today, and we can put you in contact with the nearest VAS distribution centre.