The new addition of the renovated Royal Adelaide Hospital, into the South Australian capital has brought technology and growth potential to the medical industry right across Australia. With the ability to support ongoing research and development into cutting-edge medical advancements, this Hospital has firmly become a leader in the nations healthcare system.
The Australian hospital and medical support sector are internationally recognised as having some of the highest standards and benchmarks concerning the procurement of any storage systems or equipment. Through the construction and preparation of the facilities in this hospital, each material and device was carefully decided on to ensure not only the highest quality but the most beneficial for longevity.
When looking at the preparation of storage systems across the hospital, the common question arose as to whether wire baskets or plastic storage tubs were a better option to store equipment and other consumables in a sterile and safe manner.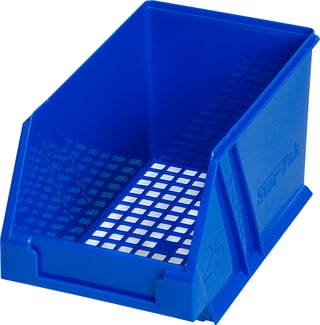 The choice for Fischer's plastic storage bins over a wire medical basket was strategically made. A few noted benefits of opting for plastic includes:
Chemical resistance of virgin-grade

Polypropylene

material
Rust free
Still limits dust collection
The option to label and colour code your consumable storage
Ability for movement of tubs between locations
Overall increased efficiency
Plastic medical storage tubs, more specifically virgin-grade plastic materials, offer a chemical resistant and safer alternative due to the issues that arise over time with the rust of the wire variety. There is also the significant advantage of colour coding in order to efficiently define the storage of respective medical consumable product categories. With a plastic tub over a wire system, it also allowed much easier transportation of goods between the various facilities within the Royal Adelaide Hospital.
Our plastic storage hospital medical baskets design has a mesh base – similar visually to a wire basket, providing the sterile storage location without the risk of dust collection. With the option of supporting local manufacturing on the decision for a medical storage bin, it could be assured that the sterile products were built to last and had additional features such as labelling holders and a wide front for increased visual capacity and organisational efficiency.
The decision for the Royal Adelaide Hospital in a number of their storage rooms to opt for Australian manufactured plastic products - via our local Adelaide distribution partners - highlights some the benefits of Plastic over Wire baskets.
Ready to take the next step and become a best-practice Hospital for the storage of your medical equipment and consumables? Read more about our Medical Storage range or contact us below.