Fischer Plastics' storage bins have a wide variety of potential applications. When looking at a companies efficiencies and best usage of space, we find that an organised storage system is one of the biggest determinants in how to cut down time wastage and improve your business' accuracies.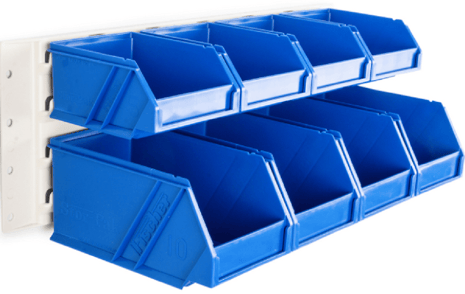 One method of storage that is widely recognised in the industrial sector is Kanban storage systems. A Kanban system in your workplace can effectively organise your stock as well as make the purchasing process as efficient as possible for regular customers.
We hav
e found
3 key Kanban systems
that work best for our clients:
'In and Out' storage bins
Medical consumables
Louvre Panel storage bins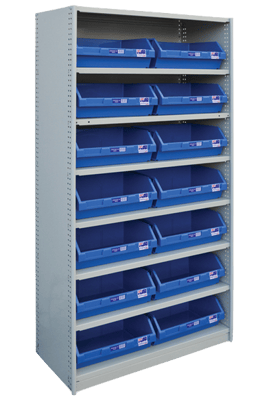 Simply put, a Kanban storage system is an effective way of measuring product movement and stock management.
In the area of fasteners particularly, Fischer bins have become a popular choice for 'in and out' Kanban storage.
What we are primarily referring too can be defined by the following example; a tradesperson will come in and pick up a Fischer Stor-Pak bin filled with nuts and bolts etc. and trade it in for an empty Fischer Stor-Pak bin from their previous purchase.
This maximises time usage and efficiencies whilst also offering an effective stock management system.
In the medical area, a Kanban storage system with Fischer storage bins such as the Visi-Pak, has been effective in increasing efficiencies and organising various consumables. In a similar sense to the fasteners, we have found that medical store rooms will keep full containers of the consumables and departments can exchange an empty storage bin for a stocked one to increase efficiencies for restocking.
Within warehouse storage systems, a Kanban system can also be implemented in a wall hanging scenario, where storage bins are affixed to Louvre style panels. Warehouse staff can easily interchange their empty bins for fully stocked bins thanks to the smart design of the Fischer range being easily taken on and off a louvre panel whilst still offering a durable and substantial weight loading capacity.
Speak to a Fischer sales representative today if you would like to discuss the best way of setting up a Kanban system at your workplace or warehouse storage system.