A labelling system is paramount to get the best use out of your medical consumables and equipment storage setup,.
In an industry often driven by efficiencies, it can give your organisation the operational edge. Whether it is as simple as colour coding your plastic storage bins or utilising a label holder, each medical storage facility can find the best mechanism for their respective needs to enhance productivity and minimise inefficiencies.
We have compiled the ways that each of these labelling systems can enhance your medical storage set-up and place you ahead of the game in the industry.
1. Cardboard Inserts
For a practical and straightforward, we have seen great success in the market with companies adopting cardboard inserts as a labelling technique for additional organised effectiveness and ease-of-use for their variety of storage needs.
2. Label holders
To take the storage system to new heights, implementing dynamic label holders could be a great option for your medical storage. Not only will this allow for efficient identification of equipment and medical consumables room, but will provide a tangible solution in the sense that each label holder can be quickly removed and interchanged with a many styles of storage bins and wire baskets.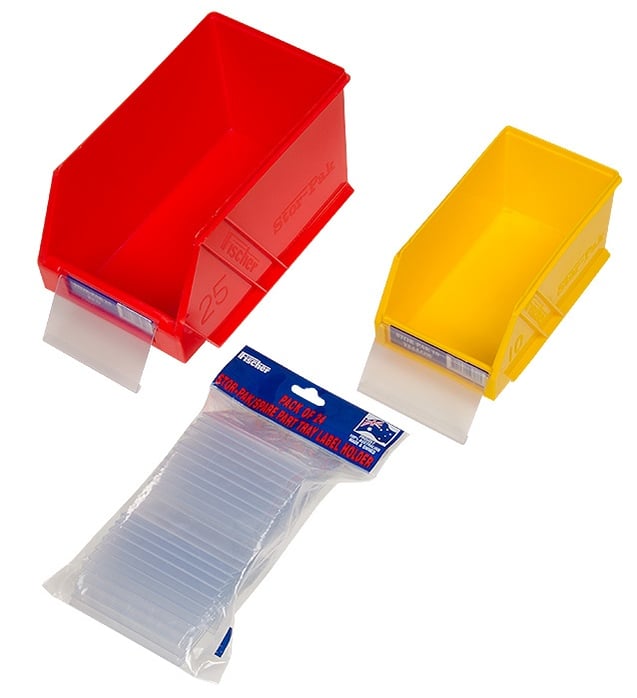 Fischer Label Holders as used in the Stor-Pak bins.
3. Colour Coding
If a label system is likely not to suit your organisation's medical storage set-up, then something as simple as a colour denomination can enhance the storage space. By allocating a different colour bin to each consumable medicinal product in your basket systems - such as the downloadable table below - we can see a useful measure to simplifying the storage process as well as offer additional design benefits. The great thing about colour coding is that you can also implement Label Holders or Cardboard Inserts into this system too.
The leadingindustry hospitals, pharmaceutical companies and specialist clinics amongst other medical storage bin locations are adopting labelling systems to suit their needs.
Try our easy-to-use colour coding system, with the assistance of the Fischer Plastic products medical and hospital storage team, for your medical storage set-up today!