Organisation is a key to efficiency both at your workplace but also at home. Fischer Plastics has developed a network of stockists around Australia to provide high quality, lasting storage options that have the added benefit of being Australian manufactured. Through working with the likes of Howards Storage World, Fischer has been able to offer some key products to a wide market that can make a big impact on your home storage systems as well as the office environment.
Storage systems around the home and garage is paramount to avoid unnecessary clutter and make your place of residence a happy space for all to reside and visit. The Fischer Products that are available through the likes of Howards Storage World offer a great solution to clear up things scattered around your house neatly. We chose to align ourselves with such a great distribution platform that also stands for high quality products ahead of imported goods.
Here are three key products you can find at Howards Storage World:
The Clear Fischer Stor-Pak range has a sleek design whilst offering a great storage option to organise drawers, cupboards and work benches. This Storage Bin has a diverse range of applications.
The Fischer Compartment storage boxes, available in Small, Medium, Large and XL, offer a range of different dimensions and compartment sizes to organise your small components and parts.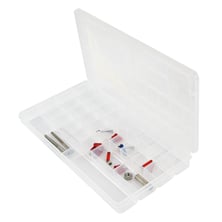 These products are stackable and easily transportable. Perfect for craft kits, nuts and bolts as well as tackle. They can allow for you to organise all your bits and bobs around the house and neatly allow them to be stored in shelving and cupboards.
Make sure you ask your local Howards Storage world for the Fischer range of storage goods and improve the way you store goods at your home or office.