Fischer Plastics collaborated with Bless Designs to create a hospital-grade plastic Haemostasis Kit – a storage unit for coagulation materials. Whilst having usual emphasis on the warehouse storage and robust application industries, Fischer also is able to adapt to the needs of it's client base and customise as necessary.
Bless Designs is a design agency that works with companies to produce innovative designs that carry purpose and meet the needs of their clients in a way that is helpful for their business and brand.
Our aim for assisting Bless Designs in their bid to succession was to:
Provide the highest quality plastic products
Ensure that we work closely with our client (Bless Designs) and assisting them with their needs
Provide hospital and medical grade materials to meet testing requirements
The Brief
In order to pass a product through the intricate standards of the medical industry, there is a long and intense process of testing how the material's specific properties withstand the environment they are to be placed in.
This plastic storage project required a product made from the highest quality hospital-grade plastic. The properties of the storage product had to be virgin grade in order to pass the rigorous evaluation that many organisations have as a standard for all product vendors.
The Solution
By working closely with Darion and his team at Bless Designs, we were able to determine their needs and provide the perfect array of medical-grade products to suit their designs. All of our products passed through the analyses and inspections to allow initial production to commence and the design to be approved.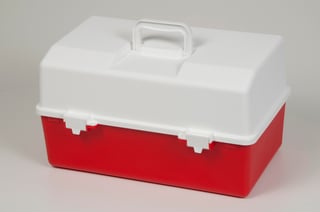 The final product was based on the Fischer Tool Box. We modified the design with a foam insert to ensure that the most intrinsic utensils would not be disturbed during transportation.
The consistent durable finish of the product meant that goods stored inside would not be harmed when being transferred between operating theatres and on the road emergencies.
The intimate level of customer service we provided Bless Designs meant we could cater to their specific needs and make the project a success.
Fischer Plastics and Bless Designs still work closely together in this ever-changing industry and we continue to provide products to suit their medical storage needs.