High End Plastic Storage Produced with recycled materials - made in Australia
Fischer Plastics is a Leader in Australian Made Plastics and Storage.
What does a recycled plastic product offer you?
As we continue to see procurement departments preference the usage of recycled material in the manufacturing process of components Fischer Plastics has similarly seen an uptake of our Viro range that incorporates off-cuts and wastage that would have otherwise ended up in Landfill.
Key benefits of buying recycled materials plastics and storage solutions from Australian manufacturers such as Fischer Plastics include:
Be procurement ready by supporting key purchasing guidelines with recycled materials.
A pure second generation recycled material means it maintains the strength capacity.
The ability to utilise the rest of the Fischer range in a recycled material for larger orders.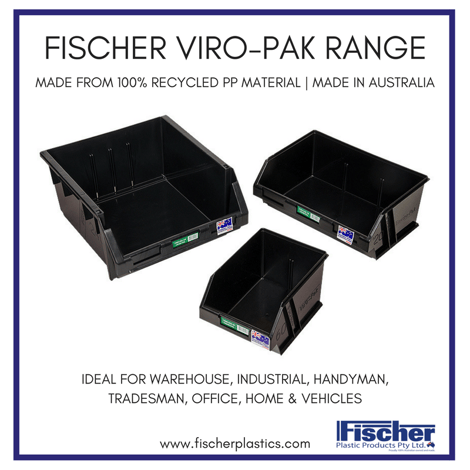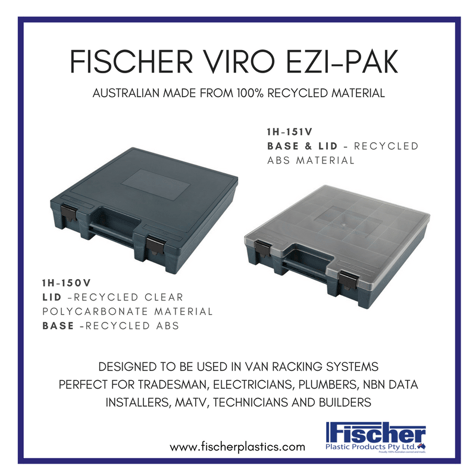 Fischer Plastics Core Recycled Products
Upcycling Movement
As global purchasing habits evolve and consumers have increasingly been requesting recycling and material recovery as an option for their goods to not only be high quality but do good for the environment, Fischer has been there every step of the way.
We are able to utilise waste product plastics in our manufacturing line for one of the highest quality recycled products. Being a local Australian manufacturer we are also a preferred supplier on a number of government and construction tenders.
Upcycling and recycled materials are becoming more and more prevalent, thus driving the cost associated down as well. Fischer aims to make their recycled "viro" range as cost effective for the consumer as possible whilst still upholding the strength capacity that is required for industrial grade plastics.